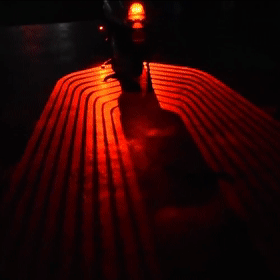 Main Features
[Easy to Use]
The product voltage of 8-36V has a field of 2 meters, which is more convenient and safe to use. The two-core socket is used for docking, which is convenient for installation without jamming. The chassis projection lamp can be easily installed on both sides of the bottom of the motorcycle. The suitable models are motorcycles and motor vehicles.

[Applicable to a Variety of Scenarios]
The projection lamp still works in rainy weather, no need to disassemble, waterproof and worry-free. The projection lamp operates in rainy weather without disassembly, and it is waterproof and worry-free!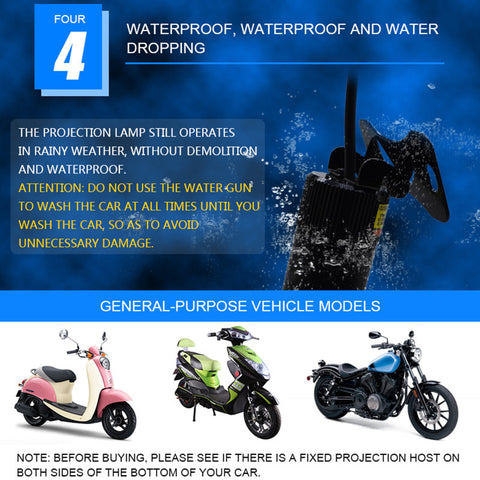 [Beautiful & Romantic]
Using high-quality aviation aluminum, heat dissipation, and high-temperature resistance. Imported lamp beads, uniform luminescence, small size, long life, accurate color temperature. The combination of efficiency can be achieved at a higher drive current. The unique design is very suitable for motorcycles, adding an interesting and romantic atmosphere to your leisure living area.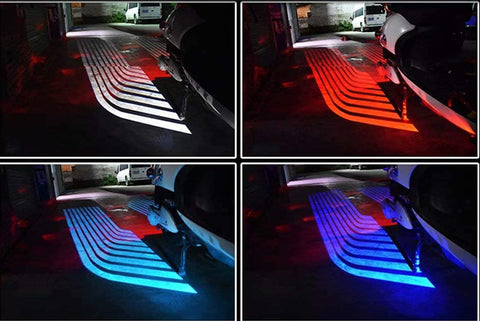 [4 Colors]
The vehicle chassis projection lamp has 4 lighting modes-a combination of red, blue, blue, and ice blue. Compared with the car chassis projection lamp with only one color, the lamp has a variety of colors to choose from.
Using Methods
Twist the main body of the projection lamp, the front and rear shells of the bracket can adjust the angle of the projection lamp irradiation direction. After the adjustment is completed, be sure to tighten it.
Caution: Do not point the water gun at the lamp when washing the car to avoid unnecessary damage!
Specifications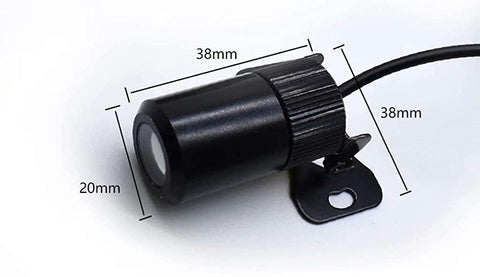 Materials

High-quality Aviation Aluminum

Product power
3W
Product voltage
8-36V
Cable length
2 meters
Style color
Red, White, Blue, Ice Blue
Suitable for
 Motorcycle / Motor Vehicle
Product Weight

Net Weight: 285G
Packing Weight: 302G

Product Size
(L x W x H)

25 × 16 × 5cm / 9.8 × 6.3 × 2inches

Package Contents

Wheel Light Chassis Light Motorcycle Led × 1(2 PCS)
Note
Note: Before you buy, please see if there is a fixed projection host on both sides of the bottom of your model!(The product is: two pack)